Customized Plastic, Paper, and Foam Cups
We offer paper, plastic, and foam cups for your events, parties, or business gatherings. All varieties of our cups can be custom printed with your logo, event date, any graphic or text desired. Custom printing is done in 1 color using the screen or offset methods. Additional colors increase the price.
Plastic Stadium Cups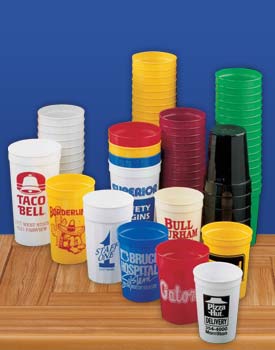 Our stadium cups come in two styles; smooth-walled or fluted. Regardless of the style stadium cups are durable and dishwasher safe. They make for a great souvenir and promotion for any event. Our custom printed stadium cups come in a variety of colors that you can choose from. You can even mix colors in a single order, provided individual colors are ordered in a batch of 50 or more. The smooth-walled stadium cups come in sizes 12, 16, 18, and 22 ounces. Fluted stadium cups come in 16 and 22 ounce sizes. Matching lids and straws are available for purchase with your cups. Stadium cups are great for restaurants, sporting events, conferences, weddings, parties, picnics, and more.
Clear Plastic Cups
Clear plastic cups are an alternative to the stadium cups. They are available in larger quantities for those really big events. Imprinting a company brand or event graphic or text can make a clear plastic cup look professional and expensive. These cups come in more and smaller sizes than the stadium cups. Sizes the cups come in are 5, 8, 9, 10, and 12 ounces. Lids and straws are not available for these cups. However, these cups can be bought plain at a slightly reduced price.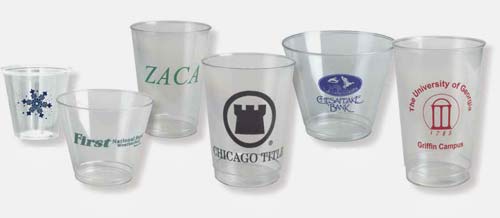 Paper Cups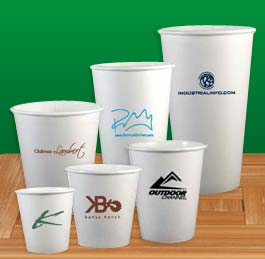 Paper cups are an excellent and cheaper alternative to the plastic cups we offer. Paper cups can be imprinted with any imagery and make for a nice promotional piece. These custom printed paper cups are great for weddings, banquettes, picnics, conventions, office parties, and similar events. Our paper cups come in a wide variety of sizes from a small 4 oz cup to a large 20 oz. You can also order paper cups with or without handles. Need to serve hot beverages? We also sell paper cups with insulation. Insulated cups are available in 8, 12, 16, or 20 oz sizes.
Foam Cups
Custom foam cups are a great choice for offering hot and cold beverages at an event. Add to your marketing campaign by adding another touch point with your company brand by printing on a foam cup. These cups come in 6, 8, 12, or 16 ounce sizes. Lids are available for purchase with a custom printed foam cup purchase.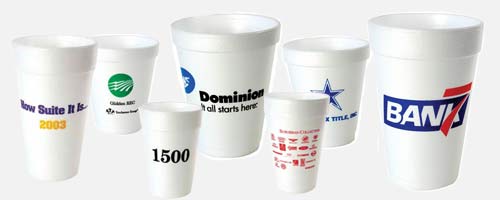 Mood Cups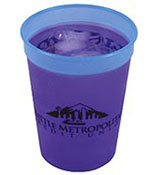 Looking for something different that will get noticed? Then check out our mood cups. What makes these cups different is that they change color when a cold beverage is inside it. If people aren't expecting it the color change will get your cup noticed. When the cup gets noticed your custom imprint will get noticed. Kids love things that change color and if you are planning a family event or an event for kids specifically be sure to add mood cups to your beverage. You can offer them as a free or purchased souvenir. Mood cups are available in two sizes 12 and 17 ounces. There are several color choices available too. These cups are made of a durable plastic. Lids are also available for your mood cups at an additional cost.
Need your custom printed cups in a hurry? No problem! We offer rush service on many of our products! Feel free to call us at the number above to speak with one of our friendly customer service representatives, or, click the button to the left to get more information.
---